"Waiting on Wednesday" is a weekly meme hosted by Jill at Breaking The Spine!

This week I'm waiting on…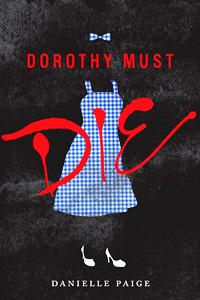 Title Dorothy Must Die
Author Danielle Paige
Pages 432 Pages
Genre Young Adult, Re-Telling, Fantasy, Fairytale
Publisher HarperTeen
To Be Published April 1st, 2014
Find It On Goodreads
I didn't ask for any of this. I didn't ask to be some kind of hero.

But when your whole life gets swept up by a tornado — taking you with it — you have no choice but to go along, you know?

Sure, I've read the books. I've seen the movies. I know the song about the rainbow and the happy little blue birds. But I never expected Oz to look like this. To be a place where Good Witches can't be trusted, Wicked Witches may just be the good guys, and winged monkeys can be executed for acts of rebellion. There's still the yellow brick road, though — but even that's crumbling.

What happened?

Dorothy. They say she found a way to come back to Oz. They say she seized power and the power went to her head. And now no one is safe.

My name is Amy Gumm – and I'm the other girl from Kansas.
I've been recruited by the Revolutionary Order of the Wicked.
I've been trained to fight.
And I have a mission:
Remove the Tin Woodman's heart.
Steal the Scarecrow's brain.
Take the Lion's courage.
Then and only then — Dorothy must die!
There are few things I enjoy more than when a classic, beloved tale is re-imagined or re-told from a new viewpoint, none more so than when the author in question decides to approach the topic from a wildly different direction from its predecessor. Jackson Pearce's Sisters Red and Marissa Meyer's Cinder are two such examples of this, and with any luck, I hope that I'll soon be able to add Danielle Paige's forthcoming novel, Dorothy Must Die to their number. L. Frank Baum's The Wizard of Oz and the accompanying 1939 film adaptation of the same name starring Judy Garland have been favourites of mine since childhood and I'm extremely excited at the prospect of having an opportunity to experience this now familiar story from an entirely different perspective. The synopsis of this novel immediately caught my attention – The protagonist, Amy's, narrative voice is sharp and distinctive, and I can't wait to discover how everything in Paige's version of Oz has become so topsy turvy!
Now, if you'll excuse me, I'll be clicking my heels together three times and wishing that the release of this novel was far sooner. Is it 2014 yet?