"Waiting on Wednesday" is a weekly meme hosted by Jill at Breaking The Spine!

This week I'm waiting on…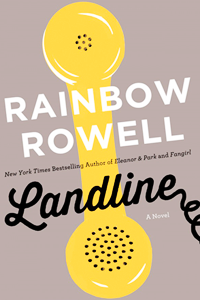 Title Landline
Author Rainbow Rowell
Pages 320 Pages
Genre Adult, Contemporary, Realistic Fiction
Publisher St. Martin's Press
To Be Published July 8th, 2014
Find It On Goodreads
Georgie McCool knows her marriage is in trouble. That it's been in trouble for a long time. She still loves her husband, Neal, and Neal still loves her, deeply — but that almost seems besides the point now.

Maybe that was always besides the point.

Two days before they're supposed to visit Neal's family in Omaha for Christmas, Georgie tells Neal that she can't go. She's a TV writer, and something's come up on her show; she has to stay in Los Angeles. She knows that Neal will be upset with her — Neal is always a little upset with Georgie — but she doesn't expect to him to pack up the kids and go home without her.

When her husband and the kids leave for the airport, Georgie wonders if she's finally done it. If she's ruined everything.

That night, Georgie discovers a way to communicate with Neal in the past. It's not time travel, not exactly, but she feels like she's been given an opportunity to fix her marriage before it starts . . .

Is that what she's supposed to do?

Or would Georgie and Neal be better off if their marriage never happened?
It's no secret that I'm a big fan of Rainbow Rowell's. Having both Attachments and Fangirl and fallen head-over-heels in love with both, Rowell has become a staple on my relatively short list of authors whose work I will immediately and automatically purchase. One of the things I most appreciate about Rowell's writing is her ability to take seemingly simple or innocuous subjects (i.e. Fanfiction, Internet security, etc) and transform them into something that is unbelievably powerful and is both simultaneously heart-wrenching and beautifully hopeful and inspiring.
In terms of the novel in question, there are so many things I love about the concept of Landline I wouldn't even know where to begin! Between the protagonist's profession as a TV writer and the idea of using a landline, an otherwise arguably outmoded form of communication in this wireless age, as a tether to the past and a means of reconnecting in the future, suffice it to say that there isn't much about this novel's synopsis that doesn't intrigue me! While I have a relatively long time to pine for this novel until the release of Landline in July 2014, I have absolutely no doubt that it will be well worth the wait!