"Waiting on Wednesday" is a weekly meme hosted by Jill at Breaking The Spine!
This week I'm waiting on…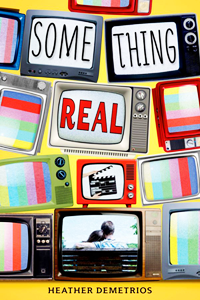 Title Something Real
Author Heather Demetrios
Pages 416 Pages
Genre Young Adult, Contemporary
Publisher Henry Holt BYR
To Be Published February 4th, 2014
Find It On Goodreads
There's nothing real about reality TV.

Seventeen-year-old Bonnie™ Baker has grown up on TV—she and her twelve siblings are the stars of one-time hit reality show Baker's Dozen. Since the show's cancellation and the scandal surrounding it, Bonnie™ has tried to live a normal life, under the radar and out of the spotlight. But it's about to fall apart…because Baker's Dozen is going back on the air. Bonnie™'s mom and the show's producers won't let her quit and soon the life she has so carefully built for herself, with real friends (and maybe even a real boyfriend), is in danger of being destroyed by the show. Bonnie™ needs to do something drastic if her life is ever going to be her own — even if it means being more exposed than ever before.
Hello! My name's Jen, and I'm a television addict. It should come as no surprise to those who are regular readers of Pop! Goes The Reader that I would be taken with a book set in the tumultuous and endlessly fascinating world of reality television. While I watch very little of it myself, as I prefer scripted dramas, I have been known to sneak the occasional episode of Survivor, The Amazing Race, Top Chef, etc. (And The Real World, Big Brother, So You Think You Can Dance…). Please also note my rather skewed definition of 'very little'. But I digress.
While I featured this promising debut yesterday on my Top Ten 2014 Debuts I'm Excited For list, I wanted to take a moment to touch upon this upcoming 2014 release in greater depth. In a time when there is very little, if any, 'reality' left in reality television, I'll be interested to see what Demetrios's interpretation is of this popular cultural phenomenon. With an undeniably inventive and relevant premise, I think Something Real has the potential to be quite the thoughtful and enjoyable story.
Thankfully, with the book set to be published on February 4th, 2014 there isn't very long to go now. I can hardly wait until Something Real is in my hands at last 😀