"Waiting on Wednesday" is a weekly meme hosted by Jill at Breaking The Spine!

This week I'm waiting on…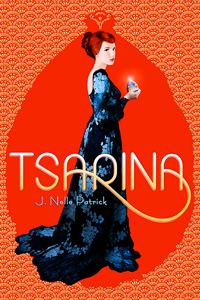 Title Tsarina
Author J. Nelle Patrick (Otherwise known as Jackson Pearce)
Pages N/A
Genre Young Adult, Historical Fiction, Fantasy
Publisher Razorbill
To Be Published 2014
Find It On Goodreads
Natalya knows a secret.
A magical Faberge egg glows within the walls of Russia's Winter Palace.
It holds a power rooted in the land and stolen from the mystics.
A power that promises a life of love for her and Alexei Romanov.
Power, that, in the right hands, can save her way of life.
But it's not in the right hands.
Theoretically-speaking, given what is known of it thus far, Tsarina would likely be one of the last novels one might ordinarily expect me to be interested in. I've spoken more than once on Pop! Goes The Reader about the fact that I've never been particularly enamoured with the fantasy genre and this, coupled with what could only be described as my rather disastrous prior experience with Russian history (I took one class dedicated to it in university and it was a spectacular mess) there is little on the surface that would lead one to believe that I would enjoy Tsarina.
But here's the thing – It's written by none other than J. Nelle Patrick, more commonly known as Jackson Pearce. Having read nearly all of Pearce's body of work at this point and fallen increasingly in love with each successive novel, I was extremely excited to hear that she had a new novel slated for release in 2014. To make a long story short, I would likely read a re-imaginging of the phone book if I knew Jackson Pearce had written it 😉 So a fantasy story set in one of my least favourite periods in history? No sweat!